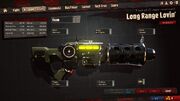 Beam is a type of 
Chassis
 in Loadout. Weapon made with Beam deals continous damage with pinpoint accuracy indicated by the straight line. Beam weapons are not limited by magazines and instead operates on the basis of a "Heat meter". Firing heats up the weapon while not firing cools it down. Once the heat meter on the hud reaches 100%, the weapon enters overheated state and ceases to function for a few seconds while the weapon is cooling down.
Statistics

Edit
| | | | |
| --- | --- | --- | --- |
| Damage | 41.99 | Range | 125.00 |
| Rate of Fire | 15.02 | Hip Acc. | 100.00% |
| Reload Time | 0.77s | Aim Acc. | 100.00% |
| Capacity | 35 | Stability | 42.26 |
What's Your Loadout How to Improve with the Beam Chassis

Holding down the reload button no longer speeds up cooling since v3.0
Careful heat juggling is the key to effective use of Beam Weapons as overheating renders the player unable to fire.
A standard magazine assault rifle type beam is one of the four starting weapons available to new players.
If the player is on fire the beam gains heat at a faster rate.
Since v3.0 beams have a sweet spot which does the most damage. This sweet spot is based on distance from target.